DVDRX Platinum-NL
Product Characteristics

Licensing through both Internet and USB key
Multi-addressable master copy
Ability to adjust the level of the guard's strength
Safe testing mode to help avoid failures
Support website in case of a problem
Easy to check capacity limit
Preview to check the output content
Ability to check if the master copy is damaged
One-button startup
Ability to stop copying in case of incorrect operation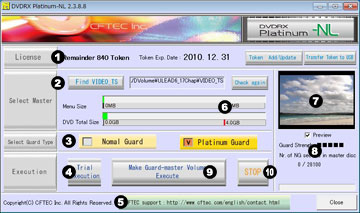 ---
DVDRX Platinum-NL protects video content on DVD-R from illegal copying. This is the most powerful digital copy guard solution that is known for both its high reproduction compatibility and a wide range of products that can be copy guarded with its help. There are a lot of solutions provided by other companies whose copy guards cannot protect copying by typical ripping software or be reproduced at certain video players. With our DVDRX Platinum-NL it is not only possible to protect your valuable data from ripping tools but also prevent digital titles copying at HDD recorders.
It is not necessary to have a dedicated PC or a duplicator, so no need to invest into new devices. A Windows PC or duplicator that you are using already are perfectly suitable for easily starting copy guard mounting.
Under this license we offer accounting system where we will charge you per each title (per each master copy) processed. As there is no need to have any dedicated hardware, this solution is best suited economically for those who will start DVD-R copy guard mounting from now on or who only uses it sometimes.
The product has a testing mode, so this is a perfect option for beginners or those who have not used it for a long time, which can prevent one from being charged as a result of incorrect usage.
Product Specification
This product is compatible with Windows PC (Windows2000/XP/Vista/7, over 500MByte of memory and over 10GB of HDD required). Verification of the license can be made through Internet (no Proxy) or USB key, or both.
DVD Platinum-NL generates previously copy guarded DVD-Video volume from the original master disc. In order to create a copy guard master disc, separate writing software as well as a DVD-R writeable drive are necessary. Reproduction of a previously copy guarded DVD requires a dedicated pre-format disc.
Charging system under this license uses tokens as its currency. Processing one master copy requires two tokens. For example, if you buy 20 tokens, you can use digital guards 10 times (10 master discs).
Testing mode provides an opportunity to check how copy guard processing works and confirm the result as well as to learn how to use our product in general. The result of processing under testing mode blocks the noise, so it is impossible to use it as an original product, but it would not charge you for utilizing the license.
While using the product in its original mode, each time there will be a verification of the license at the license server, and the number of the tokens will be counted down. Unless the processing is completed correctly and fully, the tokens will not be counted down.
Operating Method
Please insert a master disk into your PC.
The processing will start once you activated DVDRX Platinum-NL and pressed the "run" button.
Upon completion of the processing, a copy guard designated Video_TS Folder will open. Please insert a proper (available in the market) blank disc into your drive and complete the writing of the Video_TS Folder. This will create a guard master disc.
You can make copy guard mounted DVDs by inserting a guard master disc into the mother drive of your duplicator and copying it to a dedicated pre-format disc.
There are two buttons, one for the testing and another for the original mode. The copy guard designated VIDEO_TS Folder will be created automatically regardless of the mode you are using. In cases of using the testing mode or pressing a "cancel" button while running the original mode as well as when abnormal ending occurs, tokens will not be counted down, so you can safely use the product.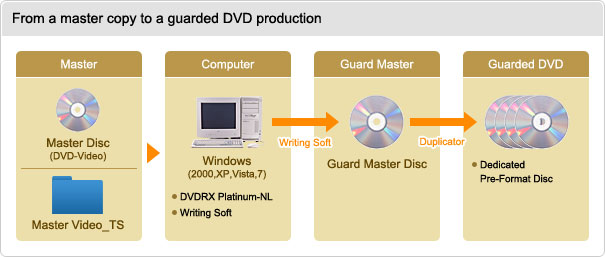 ※If there are one or two only, it is possible to create a copy guarded DVD without a duplicator.
License Configuration
Token is a ticket that gets expended when each master copy processing occurs. When using DVDRX Platinum-NL you will be charged two tokens per each title (one master copy) processed.
A token is valid for one year from the moment of purchase.
A token can be purchased through the Internet. In case you do not have an Internet access, USB key tokens are readily available. It is also possible to download tokens into the USB key directly through the Internet.